Over the last several years as you are well aware it has been harder and harder to raise money, get listed, and sell stock in the US. During this time we have developed relationships with German clients and investors.
Our German clients include some of the biggest Specialists and Sponsors for the Frankfurt Exchange. The Frankfurt exchange is now the 3rd largest exchange in the world.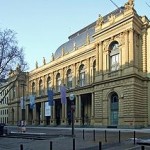 Germany is where the money is. If you are not aware, in February this year the Germans bought the NYSE. Read about it here: http://www.crainsnewyork.com/article/20110215/FREE/110219927.
Right now it is possible to go public on the Frankfurt Exchange in from 45- 60 days and raise a couple of million dollars in an IPO.  Often a company can be listed and funded in 90 days
Particularly liked are commodity based companies, like gold and other mining companies, green companies, and oil & gas companies. However, anything can be done —  especially if you have a profitable company making money.
We are not talking just about getting a listing on the Frankfurt Exchange (there are lots of companies offering that now a day), our clients will complete a listing as well as an IPO for you.
Exchange listed companies (NYSE, AMEX, NASDAQ, etc.) can get listed on the Frankfurt Exchange in as little as 7 days and can get fast funding (usually 90 days or less) on money raises of 10+ to 100+m. (Larger raises can take a little longer.)
We can also do similar fast listings (30-45 days) and fast money raises (90 days) for OTC companies or private companies not on an exchange if the company has revenues of 10+ million with positive EBITDA.
If you have any interest, please give us a call.

For
All
of your
INCORPORATING
needs contact
Samuel Wierdlow Inc.
(
www.SamuelWierdlowInc.info
)